We round out the week with another graduate- Congratulations to Marcos Solano! Who will be next?

Congratulations to our most recent graduate- Rebekah VasConselles! Scholars, the grad deadline is May 21st. You still have time. You go this!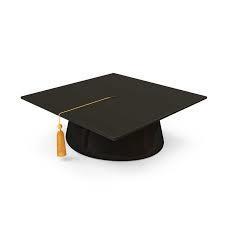 Current Scholars/Families: Yesterday, the state made an announcement about the reopening of schools. We need to know your plans/thoughts. Please click the link and respond to the survey by Thursday 3/11/21 at noon! Only one survey per scholar please:
https://bit.ly/2OkHO7k

The NM Public Education Department is hosting stakeholder meetings. Feel free to join any or all! See picture for upcoming dates.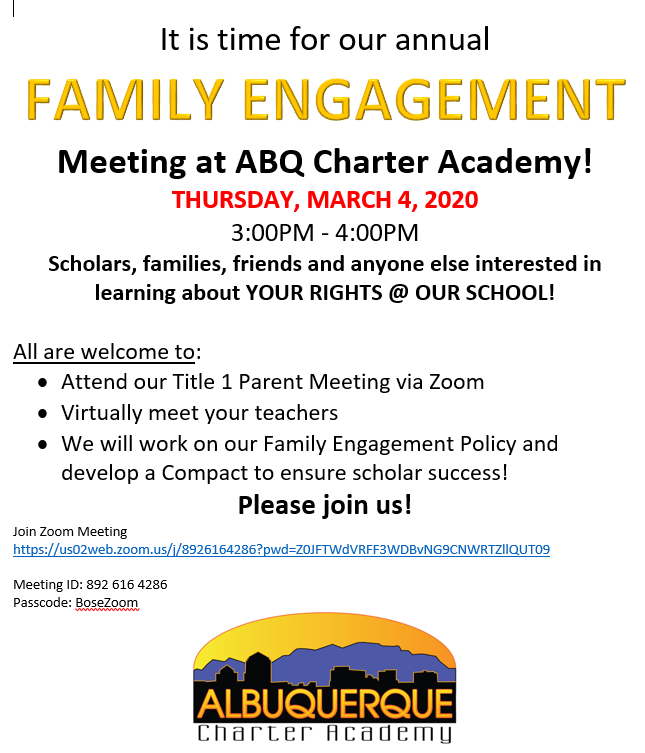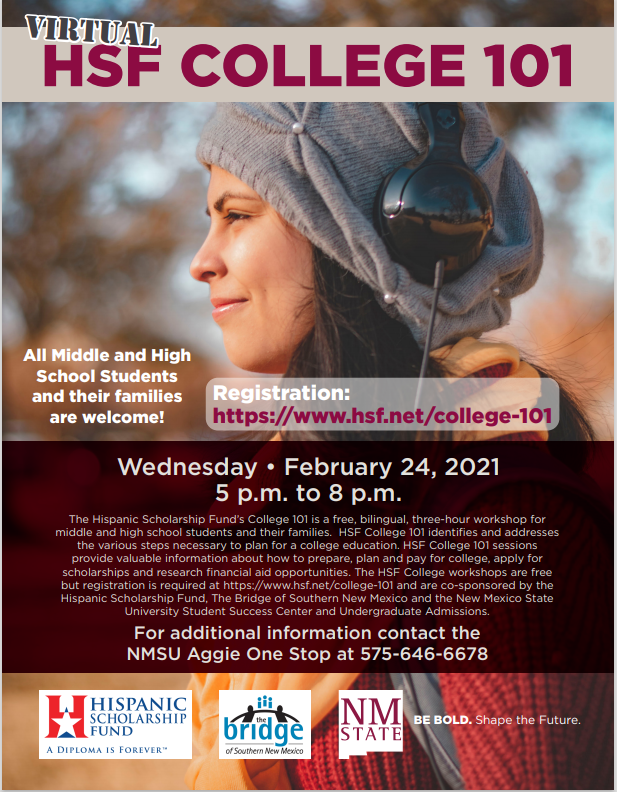 ABQCA Community: The Governor announced that secondary schools are able to begin the process of returning to some in person classes. We are reviewing the requirements to have scholars back in the building but it will take time to get these in place. At this time, we do not anticipate bringing scholars back into the building until after our Spring Break, which is scheduled for March 22-26, 2021, at the earliest. We will keep you updated as that date approaches. Stay safe!

Scholars and Families- we would like to know how you are feeling about the possibility of returning to in person learning in the school building. Please click the link to answer a very short survey:
https://bit.ly/2XGlne0
Stay safe!

Updated information on APS food distribution sites. Meals are available to anyone age 18 and younger regardless of what school you attend!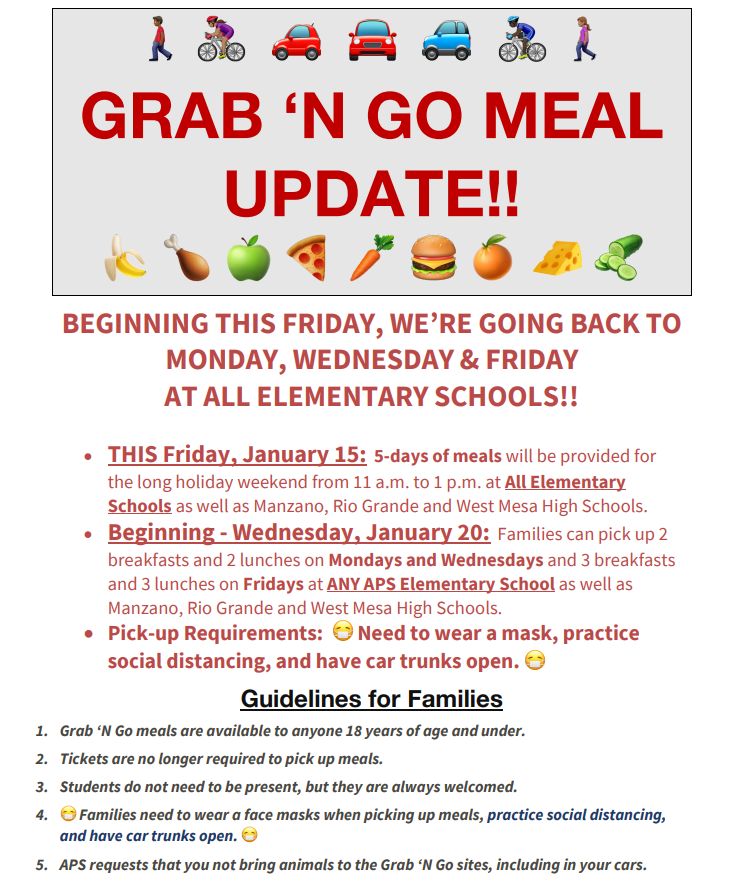 I hope everyone is ready for 2021!! Did you know it's ok to NOT feel ok?!? If you are struggling I want to share a resource app you can download for free with lots of resources. There are people to talk to and resources to use. Please access the New Mexico Crisis and Access Line FREE app, or reach out to me, 242-6640 ext. 2202 or
kelly.shelton@abqca.org
. Here's to a better 2021 for everyone!!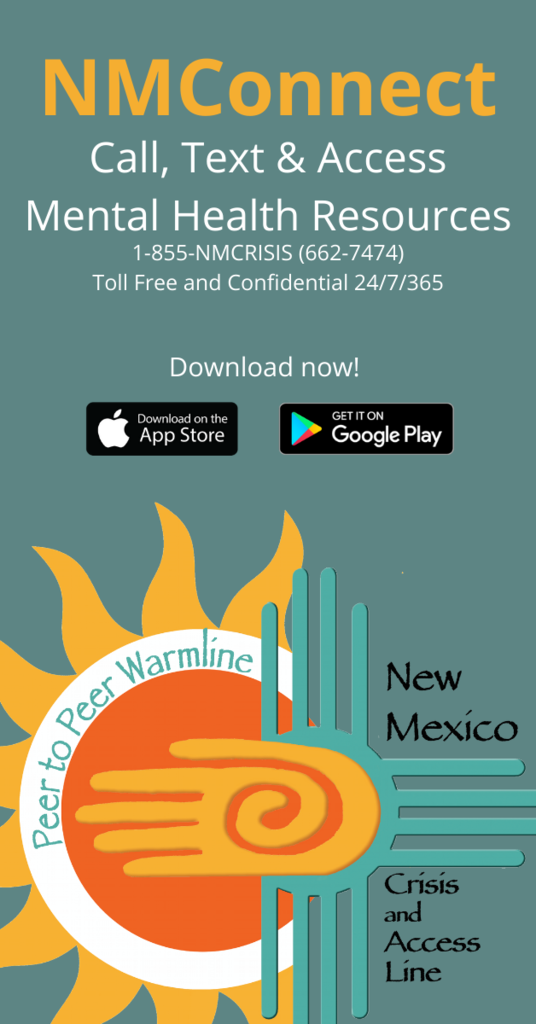 Grab and Go Meals are available again starting today! Anyone 18 and younger is eligible for a meal regardless of what school you go to and the child does not have to be in the car with you to pick up meals. Click link for locations and times:
https://bit.ly/3pWabGk

Welcome to 2021! Classes resume tomorrow, Tuesday 1/5/2021. Remember, you must login to zoom during your scheduled Chile Pepper class day/time to be counted present. We cannot wait to 'see' you in zoom this week. We've missed you all!

ABQCA Scholars- this is the last week of classes before Winter Break! Make sure you attend your scheduled classes and finish strong! Any grades submitted by 4:30pm on Thursday will be included in your progress report so get with your teachers!! You got this!!

Scholars- today is another opportunity for extra! Our staff is available today until 3pm. Use this extra day to get one-on-one help from teachers and finish .5 credits before your progress report goes out this weekend. You got this!!

Good morning ABQCA families! Today is extra- all your teachers are available today, Monday 12/7/20, from 8am to 3pm. This is a chance for you to get some extra help and finish up credits ahead of the Winter Break. Jump in your zoom classroom and see what you can finish today!

ABQCA is closed all this week in observance of Thanksgiving. As always, you may continue to work on your coursework throughout the week. We hope you have a good holiday and stay safe!

Here is a tele-behavioral health resource if you are struggling due to COVID-19. You are also welcome to reach out to me 242-6640 ext. 2202 or
kelly.shelton@abqca.org
. Stay safe everyone!!

Albuquerque Public Schools is partnering with Roadrunner Food Bank to provide farm-to-family meal boxes. Each box is a mix of about 30 pounds of fresh food items that require refrigeration. They include sour cream, sliced cheese, yogurt, chicken chili, chicken taco meat, potatoes, apples, onions, and carrots. The boxes will be distributed on Wednesday, Nov. 18, from 11 a.m. to 12:30 p.m. or until supplies last at Carlos Rey and Marie Hughes elementary schools and Sandia High School. These are provided in conjunction with our regular meal distributions. The boxes also are scheduled to be distributed at the APS Food & Nutrition facility, 800 Louisiana Blvd. NE, on Friday, Nov. 20, from 10:30 a.m.-12:30 p.m. or until the boxes are gone.
https://www.aps.edu/schools/aps-reentry-plan/reentry-plan-news/farm-to-family-meal-boxes